Festivals in North and South America, Oceania are here
Festivals in Asia and Europe are here

Festivals in Japan through a year
Monthly selection
January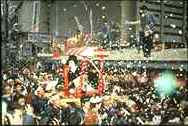 Osaka, Tooka Ebisu, January 10
Naniwa is a famous merchant district in Osaka city. The New Year of Naniwa begins by this festival. Lucky girls sell bamboo leaves with the hope of good business. Geisha girls on the palanquins parade on the street.
Feburuary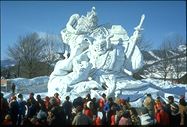 Sappro, Snow Festival, February 5-11
The are 170 snow statures along the main street. This is the biggest snow festival in Japan. The tallest snow statures is as tall as 15m. At night, lighting creates very romantic atmosphere.
March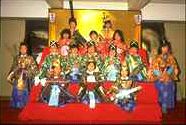 Tokyo, Hina Matsuri, March 3
March 3 is a girl's day. People pray for good health and growth of girls. Various area in Japan cerebrate this day. In this temple, girls disguise Hina-dolls and sing songs.
April

Nagano, Onbashira April to May
This festival is brave festival held every 6 years, Tiger and monkey's year according to Chinese zoo calendar. Big trees are cut from the mountains to build as the pillars around four corners of Suwa Shrine. The spectacle scene is people ride on the big trees slide dawn from the mountains.
May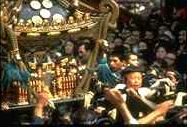 Tokyo, Sanja Festival, 4 days in mid-May
Sanja festival is the representative festival of downtown Tokyo. The festivals has been held more than 200 years. There are three portable shrines started parade from Sensou Shrine and then 80 portable shrines follow to parade 44 districts of Asakusa area.
June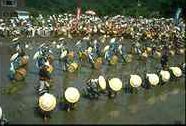 Hirosha, Rice Planting Festival, June 1st Sunday
In Japan, June is the season to plant rice. There are many rice planting festivals are held in Japan. In Mibu town, Saotome girls sing songs to plant rice with the hope of good rice harvest in Autumn.
July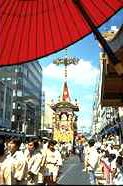 Kyoto, Gion Festival, July 17
One of the three biggest festivals in Japan. The festival has been continued more that 1100 years. The origin of this festival was to drive away evil spirits of disease. July 17 is the climax. Dozen of gorgeous floats parade Kyoto city. The old houses in Kyoto show their heritage treasure of folding golden screens to the people.
August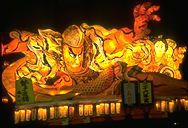 Aomori, Nebuta, August 2-7
Nebuta is the summer festival. To drive away sleepiness during summer, the festival is held. Dancers shout "Rassera Rassera Rasse Rasse..." and giant lanterns, on which Samurais are drawn, parad through the town.
September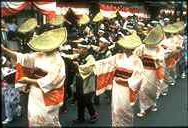 Toyama, Kaze no Bon, August 20 to September 3
The Owara folk song is the famous folk song of Toyama. Rhythm is very delicate and people dance with subtle hands waving. Town people ware cotton kimono and dance through the town. The music of Chinese fiddles are very beautiful.
October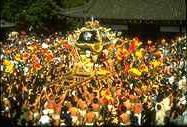 Hyogo, Nada Fighting Festival, Ocotber 14
This festival is know as hitting portable shrines hardly each other. A Danjiri float appears with the drum sounds and then three portable shrines come into the shrine hitting each other. More hitting each other, the God will be delighted and bring the prosperity to the town.
November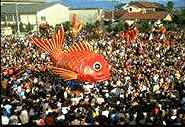 Saga, Karatsu Kunchi, November 2-4
Nagasaki Okunichi Festival is held in October. November is the month of Karatsu Kunchi. Elaborated art craft of giant lacquered gold lions, killer whales, sea breams, war helmets parade the town. It has been continued more than 300 years.
December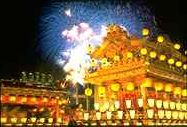 Saitama, Chichibu Night Festival, December 2-3
In the lively Chichibu folk music, Kabuki plays are performed on the gorgeous displayed floats. At the evening, four floats are lighted up. 18000 shots of fireworks sparkle in the sky. The largest diameter of a firework is 310m.
---
Festivals in North and South America, Oceania are here
Festivals in Asia and Europe are here

---
The copyright of all the pictures and texts of our homepage are reserved by Haga Library Inc. If you have any question give us e-mail or send us fax to +81-3-3367-0334 or e-mail to Haga Library Inc.