New Year's Celebration around the World
photos&text by Hideo Haga
All the people on the earth cerebrate the beginnings of the year and they hope peace, good healthy and bountiful harvest.
When is the first day of the year? It is not always on January 1. It depends on countries, races, religions and their calendars.
In nowadays Japan, we call "New Year" from January 1st to January 15th on the solar calendar. In some area of Japan, they use the lunar calendar for New Year's activities and some where they have New Years events in March or April.
In this photo exhibition, I introduce New Year's festival of 11 countries. I hope you enjoy seeing the people's face who hope to have a happy new year.
In addition, the first cerebration of the New Year goes back to BC 722 in China where the Dynasty cerebrated New Year according to the classic book.
---
Japan, Tottori Prefecture, January 1
Sacred Straw Rice bag.
Two Straw Rice bags was set at the room. On the rice bags, there are an altar and straws. In the rice bags, rice hulls are packed. People pray in front of rice bags for good harvest of rice.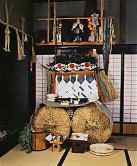 ---
Japan, Yamagata prefecture, some day in January
Dance of Daikoku God
Ladies disguise as Daikoku God. They visited village houses to give the people cerebration of New Year. They shake gavels ( sacred hammer ) , sing songs and perform Daikoku dance.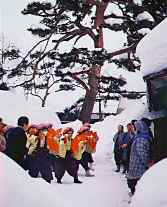 ---
Japan, Miyagi Prefecture, January 1
Sacred Shelf
A Shinto priest visit fishermen houses to install New Year Gods on the sacred shelf. The shelf is displayed by cut white papers designed as fish and nets. Then they pray for good catch of fish for this year.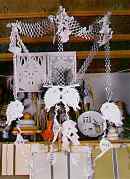 ---
Japan, Ohita prefecture, early January, when high tide
Hohran Enya
on January 1, colorful flags are displayed on fish ships. Young men row the boats with the big voice of "Hohran Enya". Through this activity, they hope for good catch of fish for this year.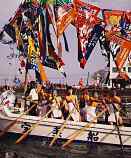 ---
Austria, January 6
Festival of Percht
The old Germanic peoples believe that ogres visit villages on New Year's day. Young men display their huts and make a procession. They hope for good marriages and being rich.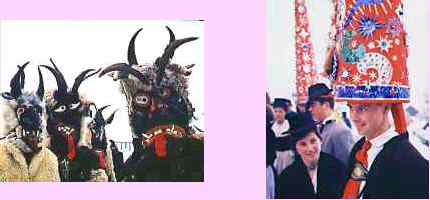 ---
Bulgaria, January to March
Kukeri
When people of Bulgaria greet the New Year, Kukeri Masked Festivals are held various places. People disguise as splits of nature and visit the villages to pray for good harvest.
---
Russia, Sankt Peterburg,December 31 to January 5
Snow Festival
On the New Year's Eve, Uncle Marouse and his grand daughter (snow princess) visit the town square and parks. Young girls as fairies follow them. The winter of Russia is very cold, below -20 centigrade but people make bonfires and dance to invite Springs.

---
Iran, Tehran, Vernal Equinox Day (around March 21)
New Year's Day "Noruz"
The New Year's Day of Iran is around March 21. Iranian people display mirrors at the guest rooms. In front of mirrors, they offer grain, yogurt, garlic, eggs, and wheats. Ladies dressed up beautifully. On the day of Karaji, families go out to riverside for picnic.

---
Thailand, Chiang Mai, April 13
Sonklan, Water Splash Festival
According to the Thai calendar, April 13 is the New Year's Day. On this day people visit temples to purify Buddhist statures by sacred water. In the Chiang Mai city, from the noon, people start to splash water. This day is also to get rid of stress toward hot summer.

---
Vietnam, Hanoi, January 1 to 3 by Luna calendar
New Year's Day and Human Chess
The Culture Center of Hanoi was previously the University which worshiped teachings of Confucius. Every New Year's Day by the Luna calendar, react of New Year's festivals are held. January 1 is the New Year's Day for men, and January 2 is the New Year's Day for women. At the garden, young people perform the Human Chess.

---
Korea, Suweon city, January 1 by Luna calendar
The New Year's Festival of Suweon city
An sacred alter is set up at the root of a sacred tree on the hill. People worship the God of mountains on New Year's Day. Then they dance "Nogaku ( Dance for agriculture ) " with the hope of a good harvest.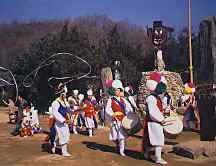 ---
Korea, Anmin Do Island, January 1 by Luna calendar
Hoping Good Catch of Fish
A shaman proceeds the people to the fish port. In front of ships, fishermen and their families pray for safe sailing and good catch of fish for this year.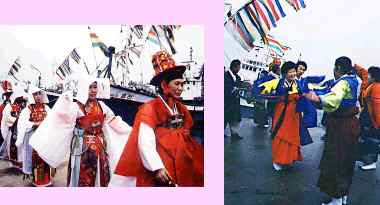 ---
China, Pekin and Kueichou, January 15 by Luna calendar
First Full Moon of the New Year
In China, the people cerebrate New Year's Day on January 1 by the Luna calendar and on January 15 as the first full moon of the New Year. Many activities such as stilt dances, plays, lanterns, and lion dances are performed. These activities were exported to Japan.

---
U.S.A., Pasadena, California, January 1
Rose Parade
On early morning of January 1 at the main street of Pasadena, dozens of floats displayed by rose flowers start to parade. From the afternoon, the football tournament of "Rose Ball" start to play. Most of Americans enjoy watching TV on this day.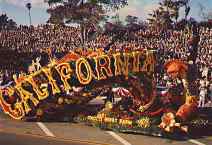 ---
Switzerland, Urnash, January 13
Festival of Klause
Klause is a split of forest who dressed his whole body with nuts and leaves. The Klauses visit village houses on New Year's Day. They sing yodels in front of village families with the hope of good health for this year.

---
---
The copyright of all the pictures and texts of our homepage are reserved by Haga Library Inc. If you have any question give us e-mail or send us fax to +81-3-3367-0334 or e-mail to Haga Library Inc.