Welcome to Haga Library

In the Haga Library website, you can search the images of the festivals all over the world including the field of cultural backgrounds.

This website and the contents of Haga Library are for the purpose related to your business with Haga Library. Any customers who wish to view and download the images may register, now. Registration fee is free.
If you register at Haga Library website, you could,

1. Get the full caption of each image.
2. Download the images up to 50MB.
3. Get the previous usage information of the image.
*Please read the terms and conditions, price list of use carefully by using this website. ->here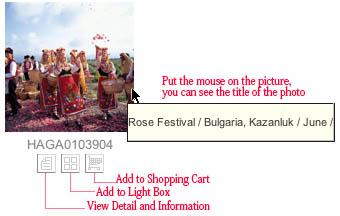 How to use this site and How to Order the Photos
1. Register your details from user registration on our website. (You mayorder the images at this time)
2. The images can be searched by simply using the key words or the Categories.
3. You can select and save images at your own light boxes.
4. You may choose the images and add to the shopping cart.
5. Fill out the information form for the usage of the images and click

6. We will confirm your order and send you the final confirmation with the Price.
7. If you agree with the price, you can download the images by click
8. You can download high-resolution data (20-50MB) . download the images.

9. We wll send you an invoice and you can pay via PAYPAL system (credit card)


10. With the downloaded images, you can also get the full captions on IPTC data by using Photoshop 'File Information.'


We may give notice of a claim of copyright infringement by 'No Model Release' or 'No Property Release.' For editorial use, you may not request for the copyright. For the commercial use, you must request for the copyright. For more information on copyright, please contact with Haga Library.


All elements of the Haga Library website are protected by copyright and the laws relating to the protection of intellectual property.


Haga Library Inc.
e-mail address: This email address is being protected from spam bots, you need Javascript enabled to view it
Tel: *81-3-3367-0333Fax: *81-3-3367-0334